>

>

>

>

Kingston Format Utility

Kingston Format Utility is an official program from the company to format pendrives of its own brand
Version
Size
Package name
kingston.format.utility.dthx30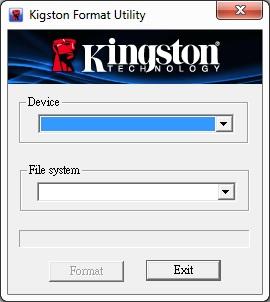 Kingston Format Utility is a program for Windows specially made to format Kingston USB drives. The company's USB drives are pre-formatted with a FAT32 file system to provide greater cross-platform compatibility. This program serves to get the best possible performance when formatting USB drive on any platform.
To use Kingston Format Tool, open the program and select the drive letter associated with your USB drive and click "Format" to start the process.
Attention: ALL DATA WILL BE DELETED. So backup the data stored on your computer or in the cloud before formatting. Kingston Format Utility is only supported with DTHX30/XX drives.
Kingston Format Utility, supported by Windows 7 (SP1), Vista (SP1, SP2) and Windows XP (SP2, SP3), and newer versions of Windows.
Opinions about: Kingston Format Utility